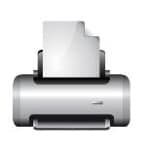 A very common cause of print jobs not printing is that the job may become stuck or corrupted in the print queue or print spooler, an area of memory where print job data sent before it is relayed to the printer.  Manually stopping, clearing and restarting the print spooler can be a fairly technical task.  Fortunately there is a free utility as pointed out by Kim Komando called Print Queue Cleaner, which will automatically clear the print queue and hopefully get you printing again.
~Ted Eiler
To Download:  Print Queue Cleaner
To Article:  How to fix a stuck printer in less than 30 seconds | Komando.com.