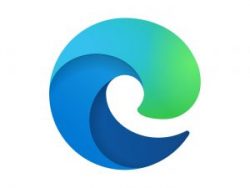 After years of competing with Google for web browser dominance, Microsoft has conceded in making the bold move to utilize Chromium, the core web page rendering engine of the Chrome browser, to its new version of Edge, called Edge Chromium.
Edge Chromium first became available on January 15, 2020, on June 3, 2020 Microsoft began rolling it out to all Windows 10 users as a Windows update.
Microsoft saw it was best to embrace Google Chrome's technology, which has over 65% of the web browser market share, in order to maintain maximum compatibility with websites that are very likely to be designed to load properly under Chrome.  Websites that previously didn't load properly with the original Edge browser should now load properly with Edge Chromium as long as the site is compatible with Chrome.
While there are many similarities between the new Edge and Chrome, there are also some key differences:
Edge syncs your history, favorites, saved passwords and browser settings with your Microsoft account rather than a Google account.
Edge retains its original favorites system, accessed by clicking the star to the right of the address bar.
There is a new tracking protection feature that will stop many third party sites such as ad networks from collecting information about sites you've visited in order to serve personalized ads.  For more information about this feature and available settings, check out this helpful article from How-To Geek:
Link: Which Tracking Prevention Setting Should You Use in Microsoft Edge
There is also a potentially unwanted program (PUP) blocker that prevents the installation of adware, trackers and various kinds of junkware you don't want installed on your machine.  It isn't enabled by default, however it is easy to turn on with a simple switch.  Check out the details on this write up from How-To Geek:
Link: How to Enable Microsoft Edge's New Crapware Blocker
The 'Collections' feature is retained from the old Edge, which allows you to save sections of webpages for note taking and gathering ideas.  For an overview of the collections feature, check out this Microsoft support article:
Link: Organize your ideas with Collections in Microsoft Edge
If you are currently running Windows 10, you most likely already have the new Edge Chromium browser, if so the original Edge icon that looks like a blue e has been replaced by a blue and green swirl as shown above.  If you don't yet have the new Edge, you can manually install it here:
Link: Introducing the new Microsoft Edge
~Ted Eiler