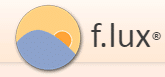 Have you noticed that your computer monitor is bright and readable during daylight hours but intense and overwhelming during night hours? f.lux is a program available on Windows and Mac that adjusts your monitor's color temperature according to where you live and the time of day.
A higher color temperature is displayed during the day that is crisp and invigorating like the sun, and a lower color temperature is displayed at night that is more warm and calming like light from a candle or fire seen at night.
The lower color temperature at night is easier on you eyes and also has significantly reduced blue light emission which can actually help you get a better night sleep. Studies show that blue light exposure close to bedtime can suppress the secretion of melatonin and interfere with sleep patterns. For more info on this check out this article from Harvard Health Publications:
http://www.health.harvard.edu/staying-healthy/blue-light-has-a-dark-side
To try out f.lux, all you need to do is download and run the installer found at https://justgetflux.com/ , set your preferred type of day and night lighting, your location, and f.lux will gradually adjust color temperature automatically as time progresses from sunrise to sunset!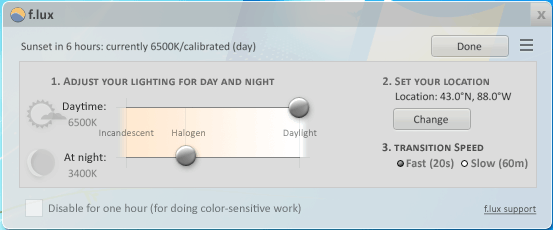 ~Ted Eiler